With each passing day, more and more data are increasingly being generated worldwide by internet of things and online streaming services which connects individuals, devices and the entire world together. the internet of things (iot) and streaming services do see a significant increase in the rate of their adoptions. The mass adoption of these industries have been attributed to their ability to connect the entire world. i.e. all autonomous smart devices, all the devices and gadgets that can connect to the internet.
Simply, the internet of things is a network that make it possible for several devices to connect together. These devices ranges from smart phones, laptops, smart watch, smart fridge, home appliances as well as all the traffic regulating devices and many more. These networks make it possible for these connected devices to interact with each, share vital data and information that will help them perform their various task efficiently.
However Current networks and infrastructures that support and anchor the various real-time networking are reaching throughput limits because of the ever increasing data being generated daily. This means that companies will not be able to provide reliable services, since network and server costs will increase along with the increasing amount of data transmitted.
Obviously the need for a more scalable network server that will bring about a throughput bandwidth and real-time networking is high needed because it is estimated that the rate of connectivity between devices will increase over 100 of billions in the year 2025.
A REVOLUTIONARY SOLUTION BY VANTA NETWORK
VANTA will use the various potentials of the blockchain technology to solve the throughput and cost issues plaguing the current model of connectivity infrastructures and networks by making the common computers and mobile devices around the world, whose performance which rapidly increases each year to contribute to real-time networking. It is a decentralized and permissionless network that ensures real-time, secure and private connectivity, and they envisage that their networking technology will cover a wide range of use cases.
These use cases of vanta network include messaging, file transfer, voice and video call development, large-scale real-time video streaming, and the transmission and processing of real-time data collected from IoT sensors. In addition, VANTA will also provide and expand enterprise-level telecommunications network solutions to businesses and enterprise customers.
VANTA's Intelligent Network works as a decentralized network that performs real-time data transmission, processing, and storage functions by selecting peers that collaborate and evaluate each other. The VANTA ecosystem also includes the Networking Framework which is a non blockchain framework built on the PGP encryption standard which helps the network achieve high levels of performance when dealing with secure, real time communications and data transfers.
Furthermore, the ARKAS Protocol, a decentralized P2P networking protocol, establishes seamless routing channels across nodes, while the KANUS Chain adopts the Proof of Networking consensus algorithm that incorporates intelligent, self-involving nodes with Verifiable Random Function (VRF) and Practical Byzantine Fault Tolerance (PBFT) to maintain efficiency alongside cost reduction.
The development of VANTA NETWORK's platform is being handled by the top expert available in the market to bring about an ecosystem of high capabilities. The platform adopted asymmetric encryption/decryption technologies so that all the data involve in the interaction between the connected iot devices will be highly encrypted.
Thus this revolution will reduce the overhead cost of interconnection, increase the value and authenticity of data sharing, ensure user privacy and system security. The VANTA NETWORK blockchain is focused on creating a network which is highly scalable, secure and to be able to solve real life problem and improve existing operational models.
VANTA TOKEN DETAILS
Token Symbol: VNT
platform : Ethereum
Type ERC20
Token Price: $0.000880
Hard Cap: $15,000,000

Available for Sale: 19,670,000,000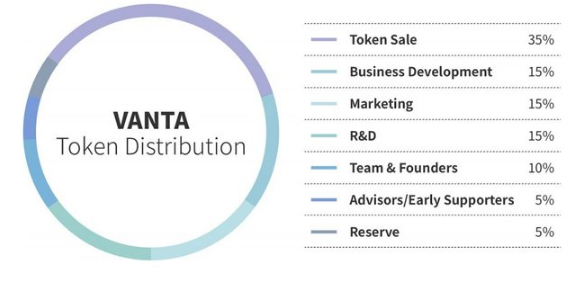 VANTA NETWORK DEVELOPMENTAL ROADMAP
Vanta Network sets up a well structured milestone that will bring about a smooth and effective project development. The journey started in 2018 and the project development is expected to be completed by 2019 or early 2020. According to the roadmap, testnet VANTA is planned to be released in Q2 2019 and mainnet is scheduled for Q3 2019. The Dapps integration is scheduled for Q4 2019.
ABOUT THE TEAM

The VANTA team is one of the most accomplished and diverse teams to come together in the blockchain space. It is made up of 4 core executives, 13 members of the technical development team, and 8 members of the business development team. They are also joined by 5 researchers from the MNI Lab at Hanyang University. The project merges engineers and executives from global corporations such as Oracle, HP, AWS, Samsung, and Microsoft, and PhDs and developers from top universities in South Korea, with educational backgrounds from UC Berkeley, Carnegie Mellon, and Georgia Tech
CONTACT VANTA NETWORK VIA :
Website:
https://vanta.network/
Whitepaper:
https://vanta.network/doc/VANTA_White_Paper.pdf
Bitcointalk ANN thread: https://bitcointalk.org/index.php?topic=5095100
Facebook:
https://www.facebook.com/vantanetwork/
Twitter:
https://twitter.com/vantanetwork
Telegram:
https://t.me/vantanetwork
ABOUT THE AUTHOR
username : etsu
Link :
https://bitcointalk.org/index.php?actio ... ;u=1967323